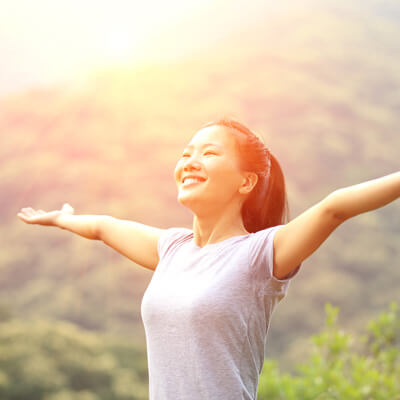 Hypnosis is a guided, cooperative process. It's collaboration between the client and the hypnotherapist with an agreed, beneficial outcome.
Statements like "I hope you can fix me" and "I'll try" are loaded with negativity. You are putting success entirely in the hypnotherapists' hands and are taking no responsibility for yourself.
"I'm going to stop smoking" and "I'm stopping smoking on 21st July, 2018″, on the other hand, are loaded with positivity and lead to success.
Some people don't seem to really think that they can succeed in changing negative behaviours. To make powerful, beneficial changes, we need to align the conscious part of the mind with the subconscious part of the mind and it's actually quite easy to do.
To make a change, you've already decided in your awake, conscious mind that the desired change is beneficial. The conscious mind is logical but limited and when focusing on the benefits of change, it may be hampered by past failures and negative inputs from other people.
The subconscious mind, however, is illogical and unlimited in its power. Logically and consciously, the black belt karate expert can't break something that's harder than the bones in her hand. Illogically and subconsciously, she does, she just smashes that brick. Before she switches into her subconscious to smash the brick, she consciously makes the decision to smash the brick.
The two parts of the mind work together with, usually, one part dominating, depending on our activity at the time. We effortlessly switch back and forth throughout our daily life. Hypnosis allows us to utilise the immense power of the subconscious and is assisted hugely by adopting positivity in our conscious mind. This is how affirmations work, by linking the conscious and the subconscious.
In hypnosis, the hypnotherapist guides the subconscious to dominate and embeds mutually agreed, positive, beneficial messages that over-ride the negative, damaging ones that are keeping you smoking.
So, if you affirm in your conscious, awake mind – "I'm stopping smoking on 21st July, 2018″, "I'm giving up smoking" or "I'm sick of this, I'm stopping smoking" all of which are positive affirmations, you help that alignment. Making these statements verbally to other people or writing them daily will power them up even more.
Hypnotherapy is incredibly powerful, enabling you to make huge, beneficial changes in behaviour and wonderful breakthroughs in emotional wellbeing. Why not maximise its awesome power?
Contact us
today!