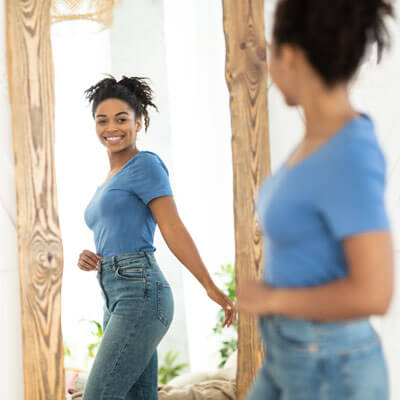 Hypnosis has been used to help treat anxiety disorders, panic attacks, and self-confidence issues. There have even been cases where it has been used to help alleviate the discomfort of skin disorders, including eczema.
However, just how effective is hypnosis in helping a person to lose weight?
There is plenty of documented evidence from reputable sources that weight-loss hypnosis, combined with a good diet and quality exercise, will help a person achieve their weight loss goals.
The Hypnotherapist uses verbal techniques to lead the subject into a physically relaxed but mentally focused state.
This makes the subject highly suggestible, and with the Hypnotherapist suggesting beneficial behavioural changes (previously agreed), hypnosis will help to achieve effective weight loss.
In one case study, a subject who'd seen her Hypnotherapist regularly was told to eat her food more slowly and to enjoy every bite thoroughly. Additionally, she was told to eat whenever she was hungry, to eat whatever she liked, and to stop eating whenever she was full.
She was quite sceptical about this approach, due to the fact that, in the past, dieticians had limited the types and amounts of food that she could eat while on diets. The subject followed her hypnotherapist's suggestions and successfully lost her target of 15 kilograms.
Now, there is an important caveat with this, and that is, you can't just go back to your bad habits in between or after your sessions with your hypnotherapist. Overriding your new urges negates them.
Hypnosis is not a "magic pill" that will enable you to lose weight, no matter what you eat and drink. While the aforementioned subject ate virtually anything she wanted to eat, she only ate when she was hungry, not all the time and she ate to her appetite. She kept up her new healthy habits at all times including social occasions. She celebrated her friends' birthday with a slice of cake but she didn't eat cake daily. She did find, however, that she was satisfied after a small piece.
Exercise becomes an enjoyed experience after hypnotic motivation. Regular exercise is essential for mental as well as physical health and it becomes an anticipated part of your life.
Issues around emotional eating are also effectively treated with hypnosis and it isn't necessary for your Hypnotherapist to invade your privacy by dissecting the causes. Hypnosis can separate the pain/fear/whatever from the past event/s so you still remember but don't suffer any more.
Hypnosis for weight loss
is powerful and effective when delivered as part of an overall life plan that involves emotional balance, intelligent eating and moderate exercise.