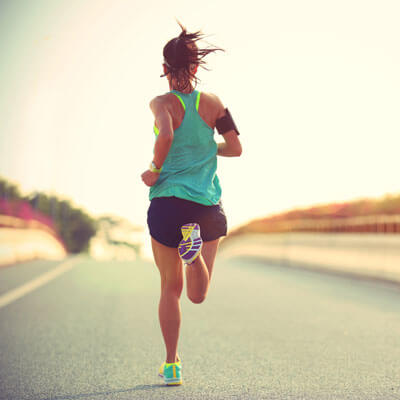 You don't have to! You can anticipate and enjoy it! Firstly, what are the benefits of exercise – why would you like to love it?
It can assist weight loss by speeding up your metabolic rate, balancing your hormones and neurotransmitters (leptin, ghrelin, insulin, cortisol plus more), burning calories and maintaining muscle mass instead of fat.
Exercise builds your muscles and strengthens your bones. Regular physical exercise can help prevent osteoporosis. Impact activity such as walking or running promotes bone strength more than swimming or cycling.
It can make you feel happier. It causes your brain to change in the parts that regulate stress and anxiety. Your sensitivity to serotonin and norepinephrine increases which relieves feelings of depression. You'll boost your endorphins which will increase positive feelings and reduce pain.
It can increase your energy levels even if you have fatigue problems and/or some serious illnesses.
Lack of regular physical activity is implicated as a primary cause of chronic disease. Type 2 diabetes, heart disease and early death may result.
Exercise can help relieve chronic pain, thereby improving your quality of life. As well as that, you'll raise the level of your pain tolerance and lessen your perception of pain.
Exercising can improve your sex drive. Your improved cardiovascular system and improved blood circulation can improve both your performance and your pleasure.
It can help skin health by providing antioxidant protection by promoting blood flow which helps to delay aging and protecting your skin.
Exercise can help push more blood and therefore oxygen to your brain. It stimulates the hippocampus to grow in size and increases mental function, particularly in older people.
You'll be better at relaxing and will improve the quality of your sleep. When you sleep better, you'll feel more energised for your daily activities.
Clearly, exercise is one of the most beneficial activities available to us so, so why aren't we all out doing it? One of the biggest barriers is lack of motivation.
Here's the good news,
hypnosis
can help you overcome the negative perceptions of exercise and can motivate you to look forward to exercising and to really, truly enjoy it.
After a while, it becomes such a habit that you just don't feel "right" if you don't do something reasonably strenuous. Exercise is enormously beneficial for your health and wellbeing and should be an unquestioned and enjoyable part of your daily life.