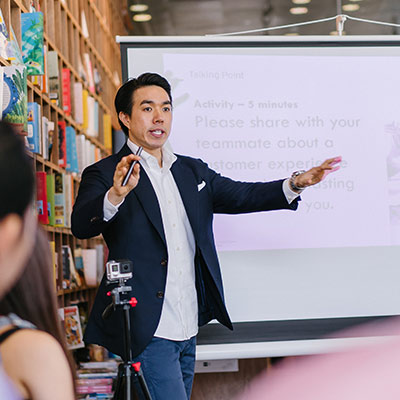 Great public speakers dominate crowds and command the respect of their audience and you can too. What causes this fear? Some of the main reasons are:
Self consciousness in front of large groups
Fear of appearing nervous
Concern that others are judging you
Past failures
Poor or insufficient preparation
Discomfort with your own body and movement
Dissatisfaction with your own abilities
There are quite a few solutions for this problem.
Hypnosis
is very powerful when used to build confidence, reduce anxiety and speak purposefully.
Other solutions are:
joining a speaking club such as Toastmasters who teach you the skills that give you confidence
writing and practising your speech until you're confident
procuring medication
hiding in the corner behind the pot plant and avoiding the situation altogether.
There's pluses and minuses in all those solutions with Toastmasters or some other speaking group probably being the next best after hypnosis. Preparation and structure are essential components regardless of which solution you choose.
Why Hypnosis?
Hypnosis is extremely beneficial for building confidence and self esteem. Many people are restricted by their own limiting beliefs and those limiting beliefs are often imposed on them by early life experiences and exposure to negative people.
This is where hypnosis becomes useful – we hypnotists don't need to identify the specific causes of the limiting behaviours, that's the realm of psychologists and psychiatrists. We simply treat the presenting issues by listening to you and designing sessions to override the irrational fear and building your confidence.
As a result, you anticipate public speaking as a wonderful opportunity to communicate with large groups and are excited by the occasion, resulting in powerful presentations. Contact Act Now Hypnosis today!